Vegan Laksa with Crispy Tofu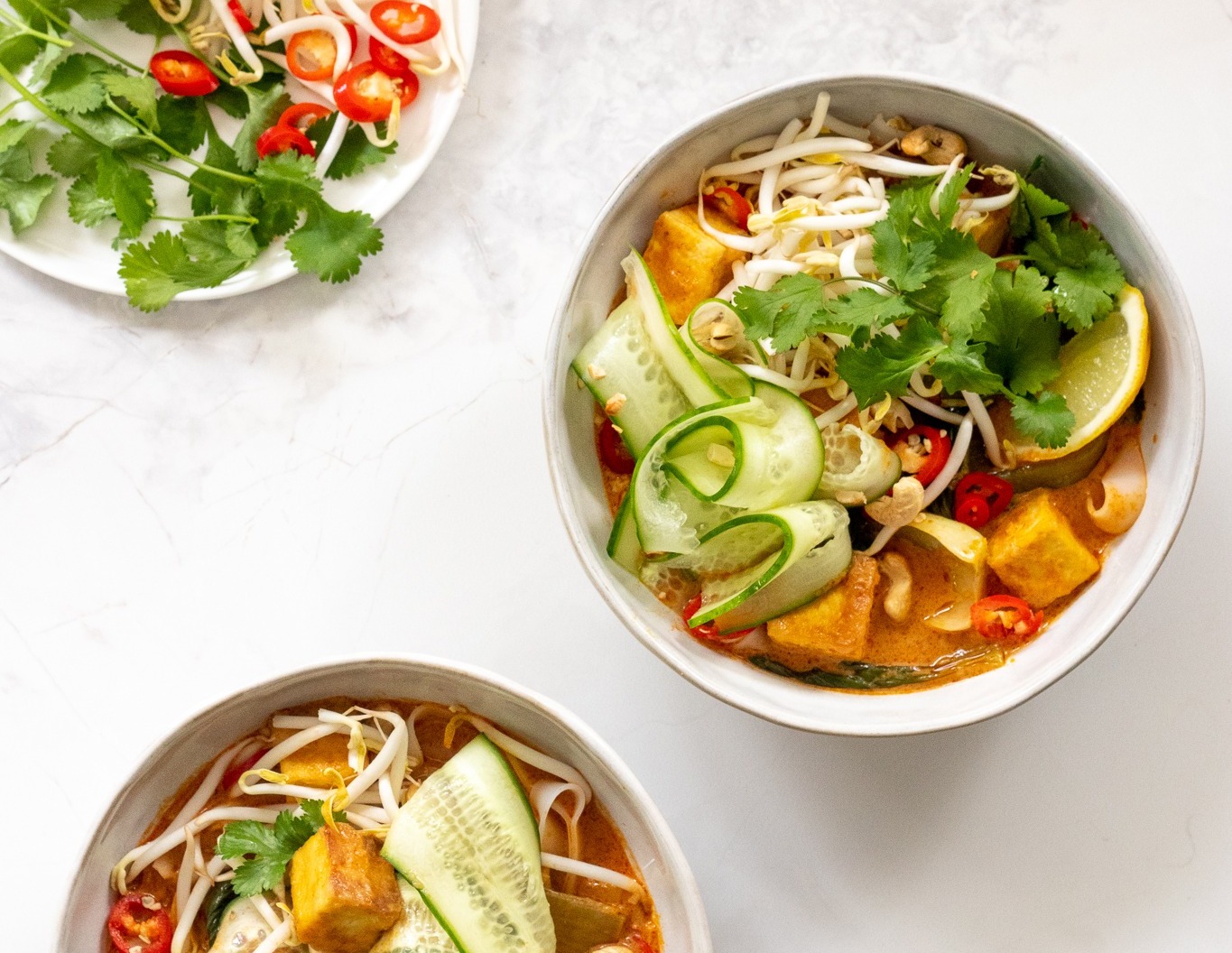 We've partnered with Assortment to bring you the most delicious, well balanced and nutritious recipes. Our Medicinal AM and PM blends are the perfect way to ad adaptogens into your meals.
This Laksa is super easy to make, it's packed full of flavour and texture from the garnishes, it's creamy, spicy, comforting and the perfect mid-week meal.
Laska
1 Tbsp coconut oil
2 Tbsp red curry paste
1 Tbsp ginger
2 cups vegetable stock
400ml coconut milk
4 tsp mothermade PM blend
1 Tbsp Tamari or soy sauce
Juice of 1 lime
1 pack of bok choy
100g rice noodles
Crispy Tofu
300g extra firm tofu 2-3 Tbsp cornflour 2 Tbsp coconut oil Salt
Start by 'pressing' the tofu, place the tofu between two paper towels with a chopping board on the bottom. Place something heavy on top to draw the moisture out of the tofu for 15 minutes.

Cut the tofu into cubes and dust with a little cornflour.

Heat the oil in a pan over a medium heat and fry the tofu for 2 minutes either side until golden brown. Season with salt and set aside ready to top laksa.

In a large pot, heat the coconut oil over medium-high heat. Add the red curry paste and ginger, stir until it becomes fragrant, about 2-3 minutes.

Add the vegetable stock, coconut milk and Mother Made mushrooms. Bring to the boil before turning down to a gentle simmer. Pop the lid on and allow to simmer away for 15-20 minutes.

Cook noodles as per packet instructions, once cooked set aside ready to be plated.

Prepare the garnishes.

Remove the lid and add lime juice and tamari, stir through and adjust to preference. Add bok choy and cook for 1 - 2 minutes before serving.

Divide the cooked rice noodles among bowls, ladle over the soup and top with crispy tofu and the garnishes prepared earlier.